RULES PLAYING CHARADES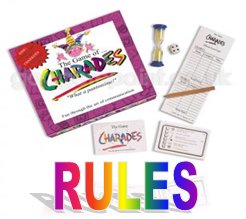 Here are the most commonly used rules playing Charades, tailor make them to fit your crowd before the game starts.
The RULES FOR PLAYING CHARADES are as much fun as the game itself! Why? You use the main rules and adapt the rest of the suggestions and ideas to fit your own crowd! Lay the rules out before the game starts.
Objective of the game:
Charades is a game of pantomimes: you have to "act out" a phrase without speaking, your team members try to guess what the phrase is. Your team members must guess the phrase as quickly as possible before time runs out.
What you need:
Charades Cards or pieces of paper with written phrases on
Timer
Container for each of the teams to place their cards in
Pen & paper to keep score
MAIN RULES PLAYING CHARADES
Two teams divided into equal players

A time and score keeper is selected, usually a person not taking part or else one person from each team can take turns.
No words. No pointing at objects in a room. No lip movements.
Only "acting out" words or pantomiming similar sounding words.
Two teams play against each other and divide an equal amount of charades cards between them.
A charade card with a phrase of Team 1 is revealed to one person (the actor) of team 2 and kept secret from the rest of team 2, team 2 must guess their actor's act.
The team demonstrating the act choose their actor, no actor may act more than once until all team members had a chance to be the actor.
The actor has limited time (2-3 minutes) to act out the phrase to his own team.
Decide on a time frame within which actors must complete their tasks before play commence, this will stay the same throughout the game.
The actor can make any gestures to act out the word.
The teams alternate until each team member had a chance to be the actor.
Add or Leave these Rules when Playing Charades
Players divide into two teams and keep score.
No clapping or whistling, no sound.
The guessers may ask the actor questions. To which the actor may nod.
The actor may make sounds other than speaking or whistling a recognizable tune. (eg.bark like a dog)
Most importantly:

HAVE FUN WITH THE RULES WHEN YOU ARE PLAYING CHARADES!
CHARADES GAME
Click on Image.

FAMILY CHARADES

Click on Image.



CHARADES FOR KIDS GAME
Click on Image.

MORE CHARADES IDEAS
Adult Charades | Kids Charades | Silent Charades | Water Charades | Charades Gestures | Free Charades Cards | Fun Games |
HOME PAGE





SOCIAL FUN

FUN PRODUCTS

Our recommendation lists makes it easier to find the perfect products to have some retail therapy and fun. There are more than 30 categories. Click on any image below to view.

RANDOM FUN
More than 25 000 fun ideas posted over the years, including but not limited to: free printable goodies, party ideas for old and young, fun games, amazing arts and crafts, funny stuff, free templates and so much more - LOOK HERE! + follow us!

Want to know what we create next? Sign up for our monthly newsletter!