Fun Party Games To Print
The following fun party games were created especially for the kids here at Fun Stuff To Do.
Older than a kid?
Look over theeeere to your right!
These games are 100% free; you may download and print as many as you wish. Most of the games compliment our FREE PRINTABLE DIY PARTY DECORATIONS for children and you can mix and match them to fit just about any theme, idea, occasion or birthday party. You can also adapt the games, change the rules or give them a new twist with your own creativity.
PLUS! Scroll down for some super fun printable seasonal party games!
The games are designed to print to A4 paper at a high resolution of 300 dpi, if you want them bigger you can easily enlarge them to A3 paper on a photocopier.
You will need a pdf viewer like Adobe Reader to view the files. Get the latest FREE DOWNLOAD of Adobe Reader here.
~~~~~~~~~~~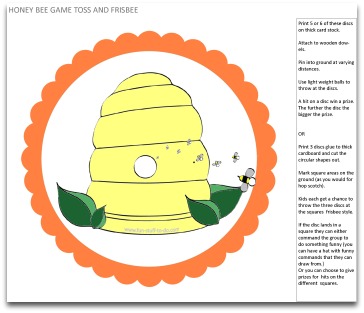 This game disc can be used in several ways, you can use it to play a ball toss game throwing light weight balls at it, or cut out the beehive hole and toss marbles at the hole. You can also attach it to heavy weight card board and play Frisbee style games. Instructions and fun party game ideas are included in this download.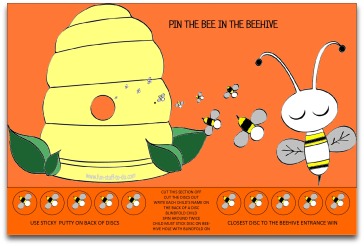 A blindfold game that can be played indoors. Similar to the popular 'pin the tail on the donkey game' but now it is time to get the bees in the beehive. Full instructions included in the download, you only need to add the blindfold. Don't forget we have free printable honey bee party decorations too!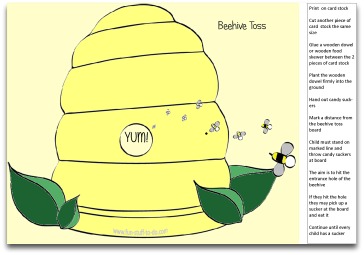 A candy toss game played with lollipops. Once again this game sheet includes party game ideas and instructions but feel free to be creative and create your own games and rules. I'm thinking along the lines of a slingshot and candies or perhaps elastic bands and how about a Lollipop Hive based on the 'Lollipop Tree' game where a series of holes are made in the board where lollipop sticks can fit through. Color the lollipop sticks to correspond with a certain prize. Each player choose a lollipop from the tree and the color on the other side of the board determines what they win, they receive both the prize and the lollipop.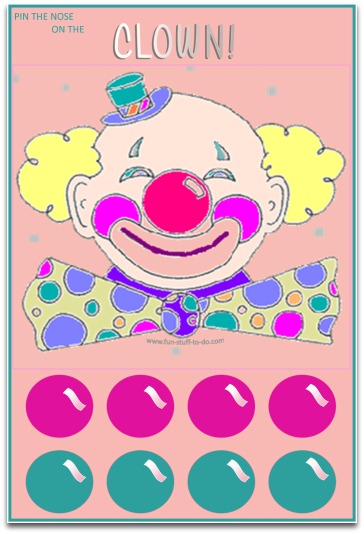 Another fun 'PIN THE ...' game, this time with a very cute clown and we are clowning around with his nose! This game does not have instructions in the download so here is the long and short of it. Each player gets a chance to be blindfolded, spin the player around three times. Hand the player a clown nose with the players name on, still blindfolded he must now stick the nose on the clown. Closest nose to the clown's nose win the game. You can use sticky putty or glue dots on the back of the noses. To make it more fun use a large piece of cardboard and glue a few clown faces at random heights on the cardboard.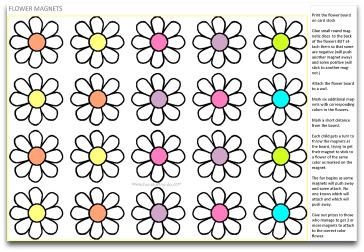 Flower magnet is a great game of chance for all players. Tossing magnets at the flower board may or may not win you a prize, irrespective of how accurate you are and how innocent those little flowers look! No one knows which magnets will push their magnets away! You will need small magnet
discs for this game, you can buy some here. All instructions are included in the printable download.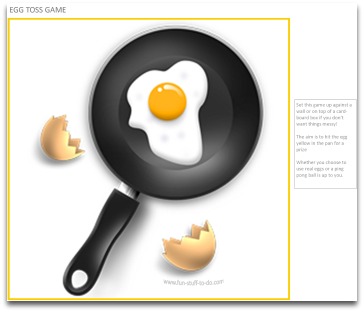 Slimy egg toss games. Yucky but ooh so nice! A favourite amongst the fun party games! Especially when played with REAL eggs. Here's an egg toss game with a difference, you have to get the raw egg "on" the pan "onto" another egg. If you don't, you have to EAT your egg... just kidding... or am I?! You make the rules.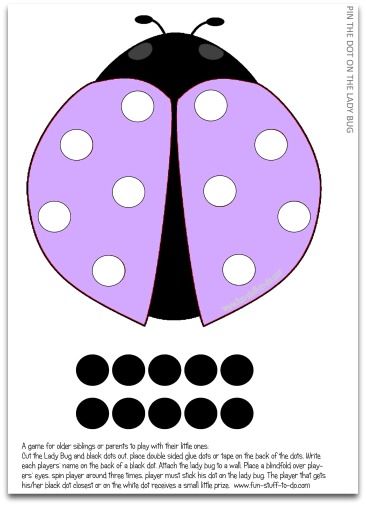 A cute little ladybug pin game! The ladybug lost her spots, anyone who can manage to put one of her spots back win a prize! This game is played like all the other "pin the..." games, only more chances to hit the pin spot! Blindfold, spin, pin! Don't forget to write the players names on the dots. Don't forget the free printable ladybug party decorations!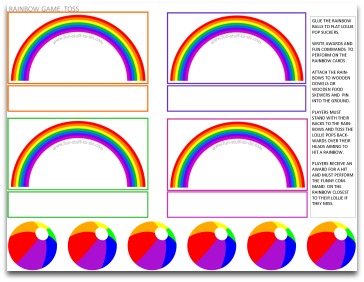 Another tossing game that can be played with anything: Balls, Coins, Flowers, Socks, Candy or anything else you can think of that will make it fun. Instructions and party game ideas included in this fun party game download.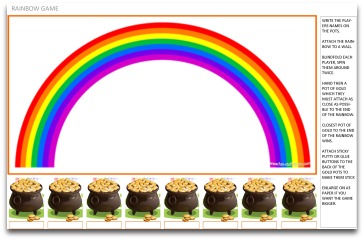 And another "PIN THE..." fun party game. This time we go over the rainbow to pin down that ever elusive pot of gold. This game is an excellent add-on to our GIANT FREE PRINTABLE RAINBOW PARTY DECORATIONS PACK. Check out all our free party decoration themes under the DIY Party Decorations section.
FUN FUN FUN GAMES!


SEARCH FOR FUN PARTY GAMES
SEASONAL FUN PARTY GAMES
Halloween is coming up! Be prepared with some fun scary printable games to celebrate in spooky style.
Can't make up your mind? Try one of these value added bundles of printable Halloween games.
This game set includes 50+ printable Halloween games for the whole family to play.
Another super cool set of printable Halloween games, choose between the 60 games bundle or the whopping 260 games bundle!
OTHER FUN PARTY GAMES TO PRINT
Kids Party Games | Preschooler Party Games |
Teen Party Games | Toddler Party Games | Trampoline Games | Parachute Games | Charades |
Add Polka Dots To The Party |