Fries Box Template
by Fun Stuff To Do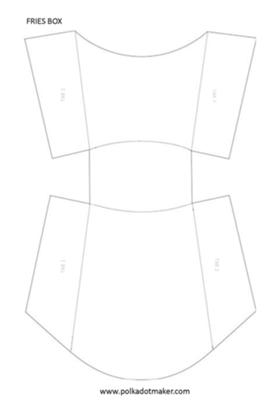 Fries - Chips Box Template
Serving "Fries" or in some countries called "Chips" and looking for a template to create a real take-out type fries / chips box or packet that you can decorate to hearts content?


You can make them look very nice when you create your own and use some of the good looking gloss type card stocks' available.
This must be one of the easiest fast food or take-away containers to create, you simply cut out of pretty card stock and glue. If you want to jazz them up a bit you can even add a
pretty label
.
To print the template:
Right click on the picture and choose print or save to your computer
Or
DOWNLOAD THE FULL SIZE TEMPLATE