Messy Twister Game With A Paint Twist
by Skylar Brooks
(Dallas,TX)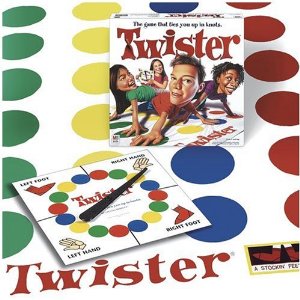 The Game - TWISTER
This is a fun outdoor game for a teenage party, unless you want paint in your house.

What you need: Twister (the game) and washable paints (Blue, Red, Yellow and Green).

How to play:
Lay out the board game make sure the guests have old clothes on then pour about a pint of paint on each dots color.

Now play the game as you usually would.

Messy and fun! It's so funny it's a real slip and slide of a paint mess!

Get Your Twister Game and Washable Tempera Paints Here:





If you don't have the Twister game but would still like to play or if you don't want paint on your own game mat, you can paint circles on the lawn (click on the thumbnail image above).
FUN PRODUCTS

*Fun-Stuff-To-Do.com is a participant in the Amazon EU Associates Program, an affiliate advertising program designed to provide a means for sites to earn advertising fees by advertising and linking to Amazon UK/ Amazon GERMANY/ Amazon FRANCE/ Amazon ITALY/ Amazon SPAIN.*
*You can also find products on Amazon CANADA/ Amazon CHINA/ Amazon BRAZIL/ Amazon INDIA/ Amazon JAPAN/ Amazon MEXICO.*
It does NOT cost you an extra dime but sure helps us to maintain this site, so please support us by doing your Amazon shopping through our links - thank you!

RANDOM FUN

SOCIAL FUN