Napkin Ring Template
by Fun Stuff To Do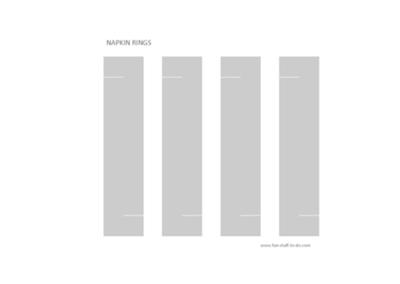 Napkin Ring Template
Cut napkin rings from your favorite paper with this template. This is a very plain template, allowing you to decorate the napkin rings any way you please.


We've attached some examples of embellishments that can be used that will give these napkin rings several different appearances. Click on the smaller picture to view the full size embellishment ideas. Embellishments and tags are freely available on the internet, simply attach them to the top of the napkin ring once the napkin is secured in the napkin ring.
Other templates that can be used as decorations include
butterflies
,
paper flowers
and
fall leaves
.
To print the napkin ring pattern:
DOWNLOAD THE FULL SIZE TEMPLATE (55KB)
Join in and write your own page! It's easy to do. How? Simply click here to return to free-templates.