FUN KIDS CRAFT KITS
These fun kids craft kits will delight children of all ages and provide hours of joy on weekends, during holidays or when the weather keeps them indoors.
Creativity assures a twinkle in the eyes and feed kids with a great sense of pride and accomplishment.
I've scanned through my suppliers, and I found some real GEMS for you! Further discounts will await you in store on some of the products once you click on the image you desire.
Amazing Craft Kits and Fun Projects for Kids.
Jar Character Topper Lid Craft Kit! - (Your Price: $7.99)
Make this fun Christmas craft project for friends or family. Plastic jars with self-adhesive foam and felt pieces. Designs include Santa, reindeer and snowman. Makes 6. 4 1/2 All craft kit pieces are pre-packaged for individual use. Kits include craft instructions and extra pieces. Age Recommendation:Ages 5 & Up: Containing medium-sized pieces with the occasional angular edge, these lightweight to sturdy crafts may require some assembly such as stringing beads or gluing items to create a 3-dimensional project
Click on Image.

Massive Fire Truck! - (Your Price: $24.99)
A Big Red Fire Truck With Loads Of Impressive Details That Kids Put Together Piece By Piece - All By Themselves. Prepainted Wooden Pieces Fit Together Easily To Create A Fully Functioning Vehicle With A Pulley-operated Ladder. Created By Awardwinning Toy Makers Melissa Doug Whose Solid Wood Toys Make Classical Treasured Gifts. Contains 35 Pieces; Assembly Requires Only A Screwdriver; No Cutting Or Glueing Necessary. For Ages 6 Yrs And Up.
Click on Image.

Wooden Train Kids Craft Kit - (Your Price: $3.99)
Little engineers will be proud to design their very own personal train engine, and now, this kit makes it possible. Wooden train engine, 6 wheels, simple assembly, paints, brush, glue and stickers are all included! Makes a great, value priced party favor too! Click on Image.

Cozy Cottage (Your price: $3.99)

This cute little wooden cottage awaits your creative, decorative touch! Complete with paints and stickers, the house may be decorated on both sides to be enjoyed whether you're coming or going! When it's finished you'll love to proudly display it and use it for pretend play! Makes a great rainy day craft project or party favor! Click on Image.
Vanity Set Kids Craft Kit (Your Price: $11.99)
Developing your creative side is fun with this fabulous craft kit! This set includes two wooden combs; storage drawer; shiny gems and more! Great for rainy days and party activities. Click on Image.

Yum Yum Craft Fun - (Your Price: $20.00)
Crafts Have Never Been So Yummy. Includes 12 Individually Packaged Delicious Projects. Make Pizza, An Ice Cream Cone, A Cupcake, A Lollipop Pie, A Gumball Machine, Cake And Cookies. Also Includes A Variety Of Papers, Construction Tissue And Crinkle Stickers, Cutouts, Ric Rac Popsicle Sticks, Chunky Glue Stick And Picture Instructions. Manufacturer's Suggested Age: 3 Years And Up. Click on Image.

Monster Making Craft Kit - Makes 12 (Your Price: $5.95)
Make them scary or make them silly! Kids love making their own monsters and this kit provides a great way to explore imaginary creatures. This kit will make 12 monsters and includes assorted monster bodies wiggly eyes and foam pieces. Click on Image

Dream Catcher Kids Craft Kit - Makes 12 (Your Price: $8.99)
Sweet dreams! Our exclusive dream catcher kit provides students with a chance to explore Native American traditions while making a simple yet engaging take-home project. Click on Image

Castle Build and Decorate Kids Craft Kit (Your Price: $24.95)
Great, sturdy do-it-yourself castle. Easy to build with some grown-up help. No glue necessary thanks to clever slot-and-groove system. Decorate it with paint and other materials such as pebbles, construction paper, woodchips, or stickers. Great craft, great toy, and a very sturdy construction. This castle easlily lasts through months and months of even rough play. Also ideal for school projects, or homeschooling. No sharp edges, no glue necessary. Approximate dimension: 15" x 15" x 12". Made from mostly recycled materials and 100% bio-degradable. Click on Image.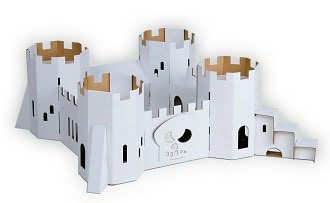 Shrinky Dinks Cool Gear (Your Price: $13.99)

Kit Includes 5 Sheets Of Preprinted Shrinky Dinks Film. 8 Colored Pencils And An Array Of Awesome Ideas And Accessories. Create Cool Magnets, Backpack Clips, Ball Chain Treasures And Other Awesome Accessories. Just Think-It-Up And Then Shrink-It-Up. Click on Image.

Crystal Wonder Kids Craft Kit (Your price: $23.95)

A wonderful kit packed with exciting activities. Make crystals of all shapes, sizes and colors. The kit includes 12 different colored salts, a display stand and all the equipment needed to produce crystals. Other activities include making jewelry creating a crystal garden and decorative crystal gifts.
Click on Image.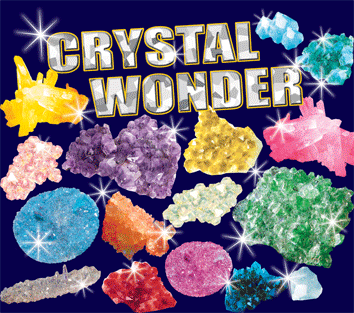 Mini Flower Press and Nature Cards (Your Price: $14.99)
Create Nature-Inspired Greeting Cards, Gift Tags And Bookmarks. This Complete Set Features A Wooden Flower Press, Watercolor Paints, A Paintbrush, Glue, Paper Supplies And Ribbon. The Easy-to-use Flower Press Includes Blotting Paper And An Easy-close Fastening Closure. No Screws Or Tools Are Needed. Manufacturer's Suggested Age: 6 Years And Up.
Click on Image.

Beach Buddies Shell Crafts (Your price: $16.99)
Turn Over 25 Real Seashells Into A Crew Of Creative Crustaceans. Complete Set Includes A Tropical Pallet Of Paint, Glitter Glue, Wiggly Eyes, Craft Glue, Dimensional Paint And Oceaninspired Felt Accents. Full Of Fun, This Is The Perfect Craft For Beachtheme Birthday Parties, Summer Camp And Small Group Activities. Manufacturer's Suggested Age: 5 Years And Up.
Click on Image.

Pottery Wheel Kids Craft Kit (Your Price: $14.99)
This Pottery Wheel Lets You Create Real Pottery. Includes Everything You Need To Sculpt And Decorate Pottery With A Sculpting Tool Set, Pottery Wheel, Colored Clay And Much More. Manufacturer's Suggested Age: 6 Years And Up. Care And Cleaning: Wipe Clean With Soap And Water.
Click on Image.

Spoon Animals - Kids Craft Kit (Your Price: $20.35)
An inspirational combination of craft material for ages 3+ to make 4 marvelous wooden spoon animal puppets. This collection is designed to encourage creativity fine motor skills imagination and social skills. A variety of animals is easy and fun to create. Children find them terrific for acting out stories. Kit includes: 4 wooden spoons (each 6" long) yarn ribbon pompoms crepe paper foam feather cotton batting wobbly eyes glue mixed sequins templates card stock and instructions! Click on Image.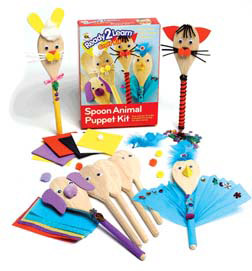 Sky Diver Paper Airplane Kit (Your Price: $14.99)
Create 10 Of The Coolest Paper Airplanes Ever With A Few Simple Folding Techniques And Heavyduty Patterned Paper. Includes 48 Sticker Accents Punchout Runways And A Bonus Sky Diver With Parachute. manufacturer's Suggested Age: 6 Years And Up. Click on Image.

Twirled Paper Kids Craft Kit - (Your Price: $16.99)
Twirl paper to perfection to create anything. Twirling paper strips, twirling tool and book with designs included. Click on Image.

Fashion Designer Silk Screen Kids Craft Kit (Your price: $46.99)

Wonderful Collection Of Craft Activities For Hours Of Fun Silk Screen And Design Creativity. Impress Your Friends With Unique And Creative Designs On Clothing and Accessories. Includes Over 200 Pieces. Manufacturer's Suggested Age: 8 Years And Up. Click on Image.
Dollhouse (Your Price: $29.99)
Decorate The House Of Your Dreams. This Sturdy Corrugate Dollhouse Comes Complete With Markers, Sticker Accessories, Punch-out Dolls And Easy-to-assemble Furniture. Fully Illustrated Guide Shows You How To Turn Every Day Items Into Awesome Accessories. Click on Image.

Paint by Numbers Horses (Your Price: $9.99)

Unlock the "gateway" to the pasture by using the color key. Your child will enjoy painting the panels and take pride in the handywork when the wooden pieces are glued into place in this pastoral 3-D display. Numbered paints, brush and glue are included. Click on Image.

Paint by Numbers Dolphins (Your Price: $9.99)

Fun will bubble up when your child is painting this beautifully detailed scene. Each wooden panel displays an aspect of this underwater environment. When glued into the box, your child will enjoy this unique 3-D view of the deep blue sea and its dancing dolphins. Numbered paints, brush and glue are included. Click on Image.

Rainstick Craft Kit - Kit for 12! (Your Price: $15.99)

Specially designed rainsticks to simulate the sound of falling rain when turned end over, just like traditional tribal rainsticks. Super cool to decorate! Click on Image.

Easy-To-Make Drum Kids Craft Kit - Set of 12! (Your Price: $14.99)

Contains easy stick-on components ribbons and foam shapes for hassle-free assembly. Great open-ended project for rainforest, jungle and Bible school programs. Finished drums look colorful authentic and have gentle sounds. Click on Image.

Craft kits are great gifts for kids and all suppliers deliver Internationally.
GO TO:
CRAFT KITS FOR TEENS & ADULTS
More kids craft kits will be added to this page, check back regularly.
HAVE YOU FOUND A GREAT CRAFT KIT?
Did you find a super craft kit somewhere lately?
Please share it here! Tell us what kind of craft it is, what it contains. Then give us your overall fun and quality rating of the product. Perhaps you want to include some tips!






Back to: CRAFT KITS
Back to: EASY CRAFTS
Back to: HOMEPAGE from Kids Craft Kits