Cupcake Wrapper Tutorial
A cupcake wrapper tutorial to show how to make and how to get the size right to fit cupcakes the first time. We have a huge variety of cute printable cupcake wrappers to create at home when decorating cupcakes for a birthday party, baby shower, wedding or any other celebration.
You can use plain white printer paper or for better quality use plain white card stock. We have used plain paper for this tutorial.
MAKE CUPCAKE WRAPPERS
Step 1 - Print Cupcake Wrapper Template. Use your own cupcake wrapper pattern or get some here!
Step 2 - Cut the pattern out.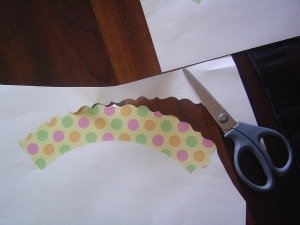 Step 3 - Fold around the cupcake to measure where the slit for the tab should be and mark with a pencil.
Step 4 - Cut the slit for the tab in the center on the straight side with a sharp knife or craft knife, about 15mm in length. Once you have marked the first one and it fits fine, you can cut a few together to speed up the process.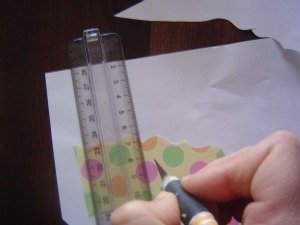 Step 5 - Make a small 2mm cut on each side of the rounded tab. This will secure the tab once in the slit.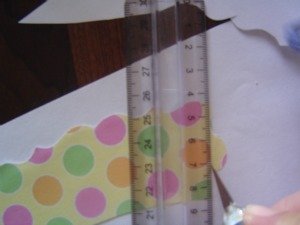 Step 6 - Place the tab between your index finger and thumb and gently squeeze the two little cut corners away from the paper without actually folding the tab.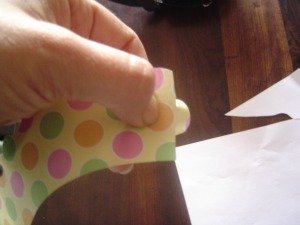 Step 7 - Make the cupcake wrapper smaller by cutting off any excess at the end on the opposite side of the tab. If it is to high cut away at the bottom.
Step 8 - Insert the tab sidewards into the slot (it's easier because the slit should be a little smaller than the tab) then wiggle around to secure.
Step 9 - Your cupcake holder is now ready to place a cupcake in!
Step 10 - You can also use the pattern to cut cupcake wrappers from other matching decorative paper.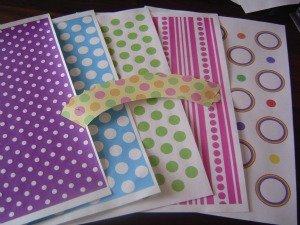 End of Cupcake Wrapper Tutorial
ADD YOUR OWN PERSONAL TOUCH!
Local craft stores carry an array of cute embellishments like lady bugs, leafs, butterflies, tiny flowers and other "cutenesses" at a very small cost per packet. Attach these to you cupcake wrappers for a super sweet 3D look! With a host of amazing graphics on the internet, it also won't be difficult to find perfect little pictures that you can print and attach with a tiny block of mirror tape, it will lift the image slightly off the surface of the wrapper for a different type of 3 dimensional look!
PRINT THE FREE CUPCAKE WRAPPERS
You will need a pdf viewer like Adobe Reader to view the file. Get the latest FREE DOWNLOAD of Adobe Reader here. Try our cupcake wrappers before you buy, download the free cupcake wrapper PDF document at the link below. Wait for the document to open in your browser. Select "Print", then select the page number of the cupcake wrapper on the pdf document that you would like to print.
PRINT FREE CUPCAKE WRAPPERS
PRINT POLKA DOT CUPCAKE WRAPPERS
PRINT PLAIN CUPCAKE WRAPPERS
PRINT TINY DOT CUPCAKE WRAPPER
PRINT COLORSCHEME CUPCAKE WRAPPERS
PRINT CUTE CUPCAKE WRAPPERS

What is awesome about our printable cupcake wrappers? It is a template pattern, you can save the template to your computer and use it to print and cut cupcake wrappers whenever needed! Hope you found the cupcake wrapper tutorial useful.


DON'T FORGET WE HAVE:
Matching printable polka dot paper to create more goodies...
and
Tons of free templates to print, cut and use as patterns to create lots of other cute little boxes, cards, labels and more!


VERY CUTE CUPCAKE WRAPPERS



Return to: HOME PAGE from Cupcake Wrapper Tutorial