Polka Dot Cupcake Wrappers
Very sweet printable polka dot cupcake wrappers with a cute easy-to-cut trim available in pink, purple, green, blue and yellow dots.
Prettier than scalloped and zigzag edged wrappers and 100% easier and quicker to cut! Follow our easy "How to make" tutorial for make-fit sizes of all cupcakes without glue or tape!
These cupcake wrapper templates are available in individual 300 dpi high resolution JPG and 600 dpi PNG file formats for beautiful print quality. Print + Cut + Use anytime and forever.


Re-usable cupcake wrapper templates to print any time you need them and you help to support Fun Stuff to bring you more FREE Fun Stuff To Do ;-)
Now only $4.95
Try before you buy cupcake wrappers - that's right, try our free cupcake wrappers before you buy any of the others. The only difference is the free cupcake wrappers are only available in pdf format and the paid cupcake wrappers are available in 300 dpi jpg and 600 dpi png file formats for extraordinary print quality and for adding text.
PLEASE NOTE: These CUPCAKE WRAPPERS are available for personal use ONLY. You are not permitted to digitally alter, re-produce or export them to another program or to publish them for free or for financial gain in any way. You can of course place a link to our page!



TINY POLKA DOT CUPCAKE WRAPPERS
Cute, cute, cute and matching many of our free printable party decoration packs on the right! Super adorable for a quick "tea" break with the girls!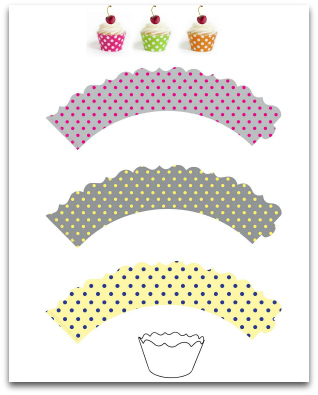 Add these cupcake wrappers now for only $3.95
MORE CUPCAKE WRAPPERS, BOXES,  SLEEVES, DECORATING AND STANDS:
OTHER FUN STUFF YOU MAY LIKE:
Free Printable Party Decorations | Complete printable party packs to assemble at home!

Free Templates | Cards, Gift Boxes, Envelopes, Party Hats, Favor Boxes and MUCH more!

FREE TAGS | Printable tags for favor bags, gifts and other little goodies.

FREE LABELS | Label your party food, invitations, drink or water bottles, cakes, candy jars and more!

My Favorite Tags and Labels To Print and Cut | 20 Different colored sheets of print and cut bliss!

Fun Printable Games | Cute games designed by us for additional entertainment at kids parties!

Make Rock Candy - Fast! | Rock candy will make so many things look exquisitely beautiful!

Fun Ideas For Parties | We share COOL and CUTE IDEAS for parties and other celebrations here!

My Polka Dot Maker Printable Paper | Never be without pretty paper again, print it yourself!

Back to Fun Stuff from Polka Dot Cupcake Wrappers
SOCIAL FUN

FUN PRODUCTS

Our recommendation lists makes it easier to find the perfect products to have some retail therapy and fun. There are more than 30 categories. Click on any image below to view.

RANDOM FUN
More than 25 000 fun ideas posted over the years, including but not limited to: free printable goodies, party ideas for old and young, fun games, amazing arts and crafts, funny stuff, free templates and so much more - LOOK HERE! + follow us!

Want to know what we create next? Sign up for our monthly newsletter!