HOW TO ADD TEXT TO LABELS
Add text to your printable images, labels, tags, name plates and templates. A simple tutorial using Microsoft Word that will show you how to insert names and how to personalize your printable templates.
There are many ways to do this, I prefer Adobe CC but in this tutorial we'll use a simple word processing program available on most computers. We go through all the steps so that novice users can do this as well.
If you would like to add text AND images or logos you may want to use this awesome free online editor.


HOW TO ADD TEXT TO IMAGES IN MICROSOFT WORD

Open up a blank MS Word page.
Select "INSERT" from the top navigation, then "PICTURE" just below and select the template from your saved files that you would like to edit.
Your template should now show on the page. Re-size your template to the desired size. Not sure how, go to adjust size first.

Select "INSERT" from the top navigation again, as indicated by the red circle on the image below.
Select "SHAPES".

At the top of the block that opened up is a square block with a letter "A", this is the text block, select it.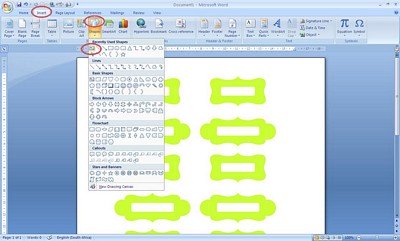 After selecting the text block icon, your cursor will change to a cross.
Start within the top left corner of the name plate (leave a little white space) and drag from top left to bottom right across the name plate (leaving a little white space once more.)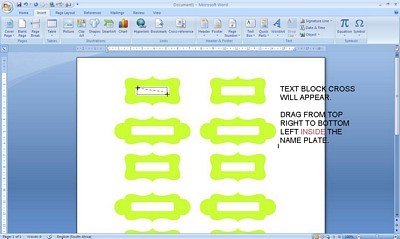 The text block will appear within the name plate.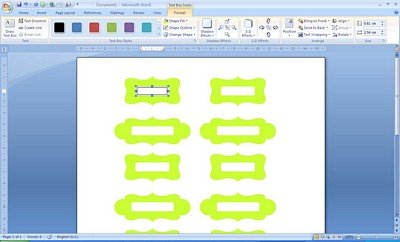 Select "FORMAT" from the top navigation bar as indicated by the red circle below if it is not yet selected.
Just below FORMAT select "SHAPE FILL", then select "NO FILL".
Just below SHAPE FILL select "SHAPE OUTLINE", then select "NO OUTLINE".
Your text block is now transparent and will not affect the shape of the name plate.

Select "HOME" at the top of the navigation bar, as indicated by the red circle below. Then select the font type, just below by clicking on the drop down arrow next to the font name and change to the font of your preference.
Play around a little, it's fun!
Click on the text block and add text or type name in the font you have selected.
Change the font as many times as you wish, until you find the perfect one!

You can change the font size in the block next to it if the letters are too big.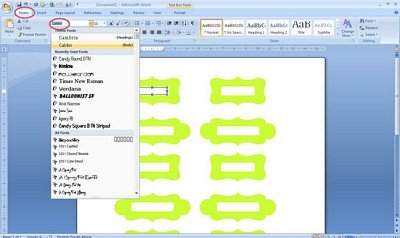 Once you have found the perfect font and typed the name in:
Right click your mouse and select copy, move your cursor away from the text block right click again and select paste.
A duplicate text block will appear.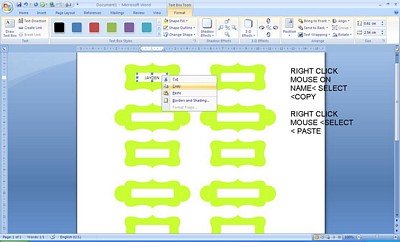 Hold your left mouse button down and drag your mouse across to the next name plate on the next label.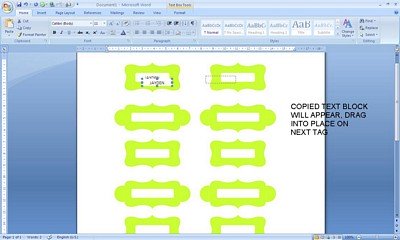 You can now highlight the name by holding in the left mouse button and dragging your mouse over the typed name, now type the next name.
Repeat the previous two steps until you have names in all your name plates.
Then print the sheet of labels with names. (You do know how to print, right ;-)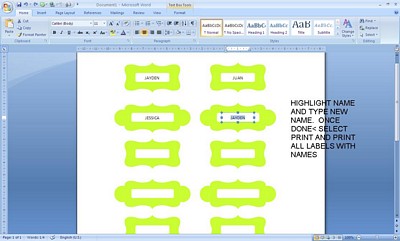 ---
UPDATE:  Now here's a fun and free tool to add text and a whole host of wingdings to any labels, tags, personal photos or other images!  Go ahead, click on the link below, it'll take you there!!

Check it out now!
Here's some of my personal designs if you want to have a peek:

SOCIAL FUN

FUN PRODUCTS

Our recommendation lists makes it easier to find the perfect products to have some retail therapy and fun. There are more than 30 categories. Click on any image below to view.

RANDOM FUN
More than 25 000 fun ideas posted over the years, including but not limited to: free printable goodies, party ideas for old and young, fun games, amazing arts and crafts, funny stuff, free templates and so much more - LOOK HERE! + follow us!

Want to know what we create next? Sign up for our monthly newsletter!