Adjust Label Size

Adjust label size: A quick and easy tutorial using Microsoft Word. Our printable label, tag and name plate templates can be re-sized from making large labels for chair seating, medium labels for water bottles, to tiny labels for small gift boxes, books, cards etc.
To adjust the size of printable labels, tags and name plates use the templates which you have downloaded that are in PNG file format.
The original PNG file is large, this tutorial will show you how to reduce the size quickly and easily.
Once you have downloaded the purchased files remember to save the files to your computer under MY PICTURES or MY DOCUMENTS. The fact that you can view the files at this point means the files are downloaded to your temporary files, these can easily be lost, get deleted by computer clean-up programs and are simply hard to find when you look for them.

Reduce Image Sizes
Open a blank page in Microsoft Word or any other word processing program to adjust label size.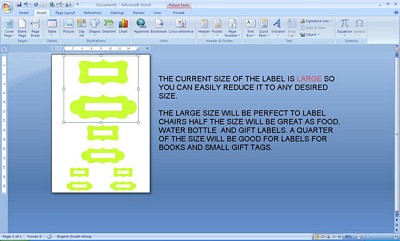 Select "INSERT" from the top navigation column, then select "PICTURE" as indicated by the red circles below.
Choose the label, tag or nameplate file in PNG format that you wish to edit from your saved files.
The original file size is large, this enables you to reduce it to any other size without the loss of print quality.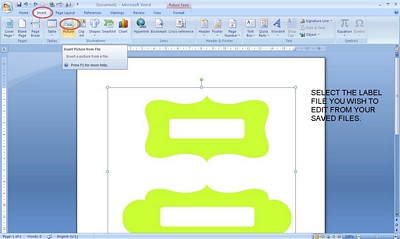 To adjust label size or re-size click on the bottom corner dot and drag the image corner directly towards the center of the existing image. You may want to try a few size options initially as in IMAGE 1, print the page to select the perfect size for your labels, tags or name plates.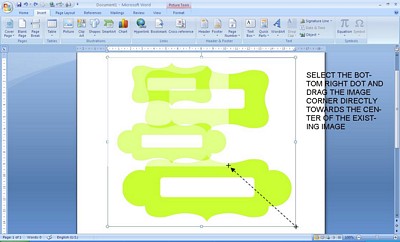 Once you have found the perfect size for your labels, right click on the image and copy/paste image to other areas of the page to fill the page up. You can adjust the page margins slightly to fit smaller labels in next to each other.

Your template is now ready to add your desired text, names, descriptions and more, please view the tutorial on how to add text to your labels below:

Go to: Add Text To Labels
Go to: My Favorite Tags and Labels
Return to: HOME PAGE from Adjust Label Size

SOCIAL FUN

FUN PRODUCTS

Our recommendation lists makes it easier to find the perfect products to have some retail therapy and fun. There are more than 30 categories. Click on any image below to view.

RANDOM FUN
More than 25 000 fun ideas posted over the years, including but not limited to: free printable goodies, party ideas for old and young, fun games, amazing arts and crafts, funny stuff, free templates and so much more - LOOK HERE! + follow us!

Want to know what we create next? Sign up for our monthly newsletter!