Geometric Shape Activity
by : Fun Stuff To Do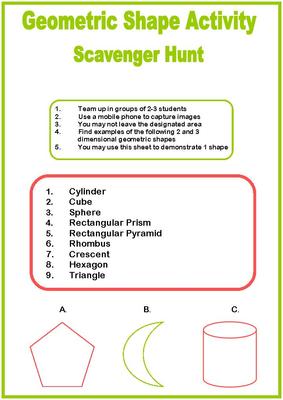 Geometric Shape Activity
A fun geometric shape activity in the form of a scavenger hunt where real-life examples of shapes are captured on mobile phone as photographs.

Both names and drawings of shapes are given in this excercise, student must identify both in the shortest time.

The scavenger hunt sheet of paper can be used to demonstrate one of the shapes on the sheet by either drawing or folding, and search for real life examples of all the rest.

A designated area can include: school grounds, park in city centre, sports arena or field and more, the idea is to make it fun.

To make it more fun and encourage pupils to learn the shapes the day before, a prize (chocolate or treats) can be awarded to the winning team or perhaps all of the teams that identify all of the shapes correctly.

This exercise will create a lasting impression of all the awesome shapes found in every day life.

DOWNLOAD AND PRINT - This is a free printable, kindly share our website URL with students and parents.
SOCIAL FUN

FUN PRODUCTS

Our recommendation lists makes it easier to find the perfect products to have some retail therapy and fun. There are more than 30 categories. Click on any image below to view.

RANDOM FUN
More than 25 000 fun ideas posted over the years, including but not limited to: free printable goodies, party ideas for old and young, fun games, amazing arts and crafts, funny stuff, free templates and so much more - LOOK HERE! + follow us!

Want to know what we create next? Sign up for our monthly newsletter!