What does?
by Matthew
(Hervey bay)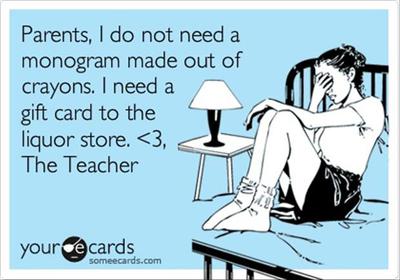 Funny Teacher Gifts
Stepped right in it -

Teacher: what do chickens give us
Students: eggs
Teacher: what does a pig give us
Students: bacon
Teacher: what does a fat cow give us
Students: homework


Q: What does the word "teacher" mean?
A: A person that helps you solve problems you'd never have without them.


My teacher pointed his ruler at me and said:
"At the end of this ruler is an idiot"
I got detention after asking which end.


Teacher: You are sleeping in class!
Me: Your voice is so sweet that's why I'm getting sleepy.
Teacher: Then why are the other people not sleeping?
Me: They aren't listening to you mam.


Teacher: Your father and mother each give you $50, what do you get?
Me: A new video game mam


Teacher: 1 Book + 1 Book
Me: 2 Books
Teacher: 2 Books + 2 Books
Me: 4 Books
Teacher: 1002 Books + 2002 Books
Me: A Library





Join in and write your own page! It's easy to do. How? Simply click here to return to Clean Short Jokes.
FUN PRODUCTS
Our recommendation lists makes it easier to find the perfect product.

RANDOM FUN
SOCIAL FUN