Aluminium or Soda Can Fun
Aluminium or Soda Can Fun
by Edwina Leal
(Roswell, New Mexico, USA)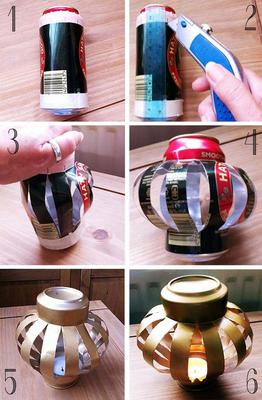 Soda Can Lantern
Go for a walk and pick up aluminium cans for recycling. You get exercise and can make a little cash from recycling!

Other uses for aluminium cans:




Protect young seedlings from cutworms and other insects in the ground when planting. Cut the top and bottom of the tin can off. Insert the seedlings in the tin can before planting to form a barrier in the ground to protect the roots.


Use for embossing. Cut the top and bottom lid off. Cut the remainder open lengthwise. Create a pattern and emboss on the shiny side. See how!


Make recycled soda can lanterns.


Make shiny garden butterflies. See thumbnail images at top. Click on image to enlarge.


Make dragonflies with shiny soda can wings and beads.


Make gift boxes. Emboss and find many templates and gift box patterns here!

Tell us what you make, create or do with your aluminium or soda cans (that's fun to do off course)...
SOCIAL FUN

FUN PRODUCTS

Our recommendation lists makes it easier to find the perfect products to have some retail therapy and fun. There are more than 30 categories. Click on any image below to view.

RANDOM FUN
More than 25 000 fun ideas posted over the years, including but not limited to: free printable goodies, party ideas for old and young, fun games, amazing arts and crafts, funny stuff, free templates and so much more - LOOK HERE! + follow us!