Funny Sayings from Weird People
Funny Sayings from Weird People
by Minnie Me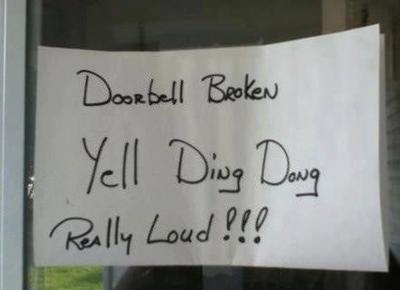 Broken
My psychiatrist told me I was crazy and I said I want a second opinion. He said okay, you're ugly too.

If at first you don't succeed, skydiving is not for you!

Children seldom misquote you. They repeat word for word what you should not have said.

And you still love nature... despite what it did to you?

If you are supposed to learn from your mistakes, why do some people have more than one child.

You spend the first 2 years of a childs life teaching them to walk and talk. Then teachers spend the next 16 years telling them to sit down and shut-up.

Politicians and diapers have one thing in common. They should both be changed regularly - for the same reason.

Money can't buy happiness, but it sure makes misery easier to live with.

The early bird get the worm, the second mouse gets the cheese.

Why is it that most nudists are people you don't want to see naked?

My opinions may change, not the fact that I am right.

Just remember...if the world didn't suck, we would all fall off.

Whenever I fill out an application, in the part that says "In an emergency, notify:" I put "DOCTOR". What's my mother or sister going to do?

We didn't fight our way to the top of the food chain to be a vegetarians.

The computer beat me at chess, I won when it came to the kick boxing.

God must love stupid people. He made SO many.

I saw a woman wearing a sweat shirt with "Guess" on it...so I said "Implants?"

The voices in my head may not be real, but they have some great ideas!

I like work. It fascinates me. I can sit and look at it for hours.

When you go to court, you put your fate into the hands of people who weren't smart enough to get out of jury duty.







SOCIAL FUN

FUN PRODUCTS

Our recommendation lists makes it easier to find the perfect products to have some retail therapy and fun. There are more than 30 categories. Click on any image below to view.

RANDOM FUN
More than 25 000 fun ideas posted over the years, including but not limited to: free printable goodies, party ideas for old and young, fun games, amazing arts and crafts, funny stuff, free templates and so much more - LOOK HERE! + follow us!