Mountains
by Caroline Segul
(USA)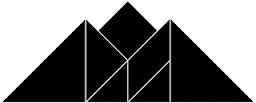 Mountain
I use all of the pieces to arrange my tangrams into a range of small and big mountains, the trapezium being on top of the square.


You can create a mountain range in various ways, as shown in the images.
Can you create a mountain that looks great?
From Fun Stuff To Do

Table Mountain is one of the 7 Wonders of the World, perhaps that can be your next mountain task?
Join in and write your own page! It's easy to do. How? Simply click here to return to New Tangram Images.
FUN PRODUCTS
Our recommendation lists makes it easier to find the perfect product.

RANDOM FUN
SOCIAL FUN