PINATA SHOP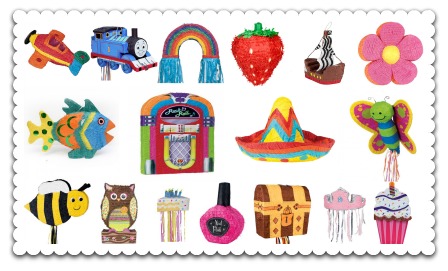 Get your high quality fun pinata here in our shop. Great fun for parties and celebrations. A festive piñata is the perfect birthday party decoration, party center piece and fun party game in one. The very best piñatas available in the best online party stores in the world are on display here, yes we have them all. Who wouldn't like to be showered with candies, treats and little toys? Sounds like a fun idea! Browse through over 1000 of the very best piñatas to match your party theme.
Don't forget: You need candy treats, small favors or toys to fill your piñata. "Piñata fillers" are available in big ready-to-fill bags, you will find them here!
Find: Use the right column index to find the type of pinata you seek.
Welcome To Our Shop!

We are currently revamping our Shop! Yay!
The new version will be available soon!
The piñata shop features all our hand-picked items and feeds from our suppliers. If you see duplicate products, it means more than one supplier stocks that item and it will make it easy for you to compare prices.
We do receive a tiny commission from our suppliers when you shop via our shops, please do, it helps us to provide you with more FUN STUFF TO DO!
TYPES OF PINATAS
1. The original piñata which you whack with a (stick) "piñata buster". Each party participant is blind folded, spun around a few times and then gets a chance to smack the piñata as hard as they can with the piñata buster, until it pops.  The moment it bursts open everyone climbs in and collect as much as they can!  
2. The pull string piñata which is non-violent, safe and suitable for little kids. Each party participant gets a chance to yank one of the strings as hard as they can to pop the piñata. Once again, when the toys and treats come showering down, each will collect as much as they can.
Tip: Have small little baskets with treats, sweats and toys ready for the unlucky little ones that get none. Tear prevention!
ABOUT PINATAS
A piñata is container usually made of clay, cloth or papier-mâché. Modern day piñatas are mostly made of paper-mâché. Then decorated with lots of ribbons, tinsels and colorful fringed paper, it is then filled with tiny treasures of candy, small toys and sometimes fruits, seeds, or flour!   
Many believe the piñata originated in Mexico and was first created by the Spanish but there are claims that Marco Polo actually found the first Pinatas on his travels to China. Rumor has it that the tradition then traveled to Europe in the 14th Century where after the Spanish brought the festive tradition to Mexico around the 16th Century and gave it the Mexican name "piñata".  Others claim the Aztecs had a similar tradition way before this. Full details about this and the religious connections and traditions can be found on Wikipedia.com: search for "piñata". 
Call them Pinata, piñatas, pinyada, pinyata, pinhata, pinanis, we know what you are looking for... fun in layers!

We tend to think that it  was always just a fun game for parties but in fact there are a lot of interesting facts about this tradition available on the internet, whichever way, it was always meant for fun and celebrations – our aim fulfilled!
View more: FUN PARTY GAMES

Also see: FREE PRINTABLE PARTY DECORATIONS
SOCIAL FUN

FUN PRODUCTS

Our recommendation lists makes it easier to find the perfect products to have some retail therapy and fun. There are more than 30 categories. Click on any image below to view.

RANDOM FUN
More than 25 000 fun ideas posted over the years, including but not limited to: free printable goodies, party ideas for old and young, fun games, amazing arts and crafts, funny stuff, free templates and so much more - LOOK HERE! + follow us!

Want to know what we create next? Sign up for our monthly newsletter!

Return to Fun Stuff To Do:  HOME PAGE