Target Practise Laser Alarm Clock
Target Practise Laser Alarm Clock
by Josua
(US)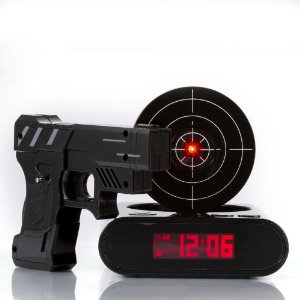 Target Alarm Clock - Black
The target alarm clock is definitely the best alarm clock in the world.

If you dread waking up in the morning for work or you are not a morning person and dread waking up period, like me, then this will make waking up more fun.

Once the alarm goes off the target area will pop up, get your laser gun and shoot! Utter bliss for sure.

Even when I travel, I don't leave home without my unique new alarm clock, no more nasty hotel wake-up calls, just pop your alarm whenever you choose. When I first got this, cover my eyes in shame, I had to set the alarm to go off every 2 minutes, had to practice! This one I'm buying is for a incredibly envious friend. Who like me thinks this is the greatest way to wake up.

The upside is if you ever have an intruder in your home while asleep you would probably be able to scare the living life out of them without causing any actual harm.

Get your target laser alarm clock here:






SOCIAL FUN

FUN PRODUCTS

Our recommendation lists makes it easier to find the perfect products to have some retail therapy and fun. There are more than 30 categories. Click on any image below to view.

RANDOM FUN
More than 25 000 fun ideas posted over the years, including but not limited to: free printable goodies, party ideas for old and young, fun games, amazing arts and crafts, funny stuff, free templates and so much more - LOOK HERE! + follow us!

Want to know what we create next? Sign up for our monthly newsletter!