EASY PAINT TO MAKE FOR CHILDREN
EASY PAINT TO MAKE FOR CHILDREN
by Badass Dad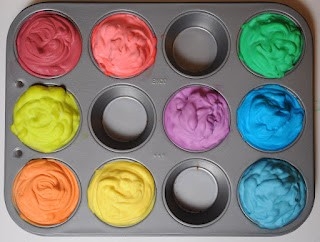 make paint with shaving cream
This recipe is so simple and easy to make it won't take up more than a few lines on this page and you can literally make it in just a few seconds:

WHAT YOU NEED:

Shaving Foam (Yes the type that men use and ah-well woman)
Food Coloring

METHOD:

Put a dollop of shaving cream in a few bowls and add a few drops of food coloring to each bowl (make different colors). I told you it was simple!

Want to be fancy? Use a muffin pan for lots of different colors!

Put only a drop or two of food coloring for pastel colored paints and more for brighter colors, just as simple!

This is definitely the easiest finger paint recipe ever!

Now get those hands in the paint and paint away.

This recipe can also be used in the bath for extra special bath time fun, paint the bath and tiles around the bath. I bet you want to join in, I did! In fact I found it so much fun we ended up painting the bathroom floor and a few mirrors. (Tiled!)


Find more Paint Recipes
Join in and write your own page like this! It's fun and easy to do. How? Simply click here to start @ Paint Recipe For FingerPaints.
SOCIAL FUN

FUN PRODUCTS

Our recommendation lists makes it easier to find the perfect products to have some retail therapy and fun. There are more than 30 categories. Click on any image below to view.

RANDOM FUN
More than 25 000 fun ideas posted over the years, including but not limited to: free printable goodies, party ideas for old and young, fun games, amazing arts and crafts, funny stuff, free templates and so much more - LOOK HERE! + follow us!

Want to know what we create next? Sign up for our monthly newsletter!