Finger Paint Recipes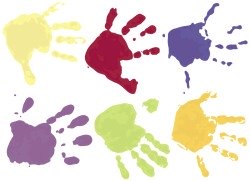 Finger paint is real quick and easy to make. Here are a few tried, tested and perfected fun paint recipes that we've collected over the years. Finger-painting is a great activity if you do not mind to get your hands a little dirty.

These paints are great to capture little hand and foot prints or to create everyday works of art and crafts without the fuss of washing paintbrushes. Simply rinse paint from hands under running water with soap. Some of these recipes are so yum-delicious you won't mind sticking your fingers in your mouth!

What's great about homemade finger paint? It is 100% safe, all natural ingredients. You do not have to worry when it ends up in the mouth!
Homemade Paint Recipes

Basic Heated Finger Paint
1 cup flour
2 tablespoons salt
1 1/2 cups cold water
1 1/2 cups hot water
2 tablespoons food coloring
Directions:
Mix 1 cup of flour and 2 tablespoons of salt
Add the cold water and stir until there are no lumps
Add the hot water and bring to a boil while stirring
Remove from heat once thickened
Continue to whisk until all lumps are gone
Add food coloring and stir well
Pour into desired containers
Allow time to cool down or refrigerate
Shake before use and refrigerate after use



~~~~~~~~~~~~~~~~~~~~
Cool-Aid Finger Paint - No Cook
3 cups boiling water
2 cups flour
2 packages unsweetened Cool-Aid (concentrated flavored cold drink powder mix)
1/2 cup salt
3 tablespoons oil
Directions:
Mix the Cool-Aid, flour and salt into a glass bowl. Add oil.
Slowly add the boiling water, stirring while you pour.
Mix well and PAINT!



~~~~~~~~~~~~~~~~~~~~
Cornflour Finger Paint
2 cups boiling water
1 cup cold water
1/2 cup cornflour
1 pkg unflavored gelatin
2 TBS food coloring
Directions:
Stir gelatin into 1/4 cup of cold water and set aside.
Mix cornflour into the rest of the cold water (3/4 cup) and stir until a smooth paste. Slowly pour the boiling water over the paste mixture and cook over medium heat, stirring constantly.
Once the mixture becomes bubbly from boiling and clear, remove from heat.
Stir in the gelatin mixture.
Cool and divide into portions. Add colors to each portion.
Keep fingerpaint refrigerated.



~~~~~~~~~~~~~~~~~~~~
Jello Finger Paint Recipe
Jello Powder
Boiling Water
Directions:
Slowly add boiling water to the Jello powder (constantly stirring) until you have a thick consistency. Add ice to thicken and cool down the Jello quickly. Use when cool, not set.
This is an edible paint recipe.
This paint will have a water color texture.
~~~~~~~~~~~~~~~~~~~~
Instant Finger Paint
Instant Vanilla Pudding Mix
Food Coloring
Directions:
Make the vanilla pudding according to package directions.
Divide into portions and mix in different food coloring for each portion. Paint away!
This finger paint is edible. If you use the food coloring sparingly it is a washable paint.
~~~~~~~~~~~~~~~~~~~~
NOT SO YUM FINGER PAINT! (Contains dish washing liquid)
No-Stains Finger paint
2 tbsp sugar
1/3 cup cornstarch
2 cups water
large sauce pan
1/4 cup dish soap
2 TBS food coloring
Directions:
In a large sauce pan, combine the sugar, cornstarch, and water.
Bring mixture to a boil over medium heat (under adult supervision), stirring constantly until the mixture thickens into a smooth gel. Stir in the dish washing soap.
Pour into individual containers.
Place food coloring in each container and mix while it is still warm.
Let cool, then store in glass jars with lids until ready to use.



~~~~~~~~~~~~~~~~~~~~
Simple Homemade Finger Paint Recipe
1 cup Flour
1 cup Water
1 cup Dish washing soap
2 TBS Food Coloring
Directions:
Mix all items until there are no lumps and paint is smooth.
Keep sealed in an airtight container and refrigerate.
You can divide the batch up into smaller portions and use a different color of food coloring for each.



~~~~~~~~~~~~~~~~~~~~
TIPS:
You can store your paints in glass containers with lids or use empty squeeze bottles, the type table sauces come in. This will avoid spillage and make it easy to use.
Store paints in the fridge, or else it will form mold.
The recipes that contain food coloring are washable and non-staining if you use the food coloring sparingly.
Cooked finger paints may reach a point where it looks a little lumpy after you remove it from the heat. Keep on whisking until the texture becomes smoother once removed from heat.
Make blue, yellow and red paint and create other colors by mixing the paints or allow little hands to find this magic for themselves.
Blue + Yellow = Green
Red + Yellow= Orange
Blue + Red= Purple

You can also use paints in powder form (Tempera Paints) to add color instead of food coloring. (Bit silly if you are going through this trouble to make paint – just mix what you have with water :-) unless you have too little of it!
Recipes with high concentrations of salt are not pet friendly please keep these away from animals.
Best Finger Paint Recipes
Submitted by Visitors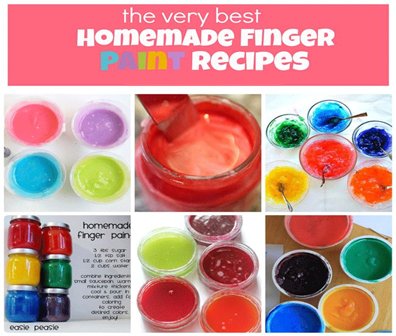 DO YOU HAVE A GREAT PAINT RECIPE?
Please share your homemade paint recipe here with us!
WHAT OTHER VISITORS SAY
Click below to see paint recipe contributions from other visitors to this page...

MUST SEE PAGES THAT MAY INTEREST YOU!
FINGER PRINT ART |
CAMPFIRE GAMES |
CHARADES FOR KIDS


HOME from Finger Paint Recipes
SOCIAL FUN

FUN PRODUCTS

Our recommendation lists makes it easier to find the perfect products to have some retail therapy and fun. There are more than 30 categories. Click on any image below to view.