Funny Saying
by Lesley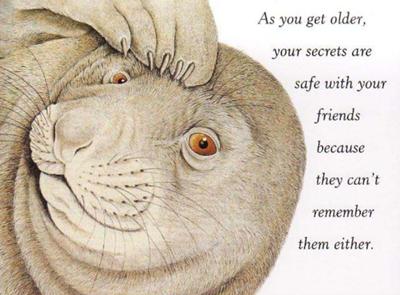 Older
Just received an email with these cuter than cute funny sayings - you must add them!!

Go for younger men. You might as well - they never mature anyway.

Growing old is mandatory; growing up is optional.

Always use tasteful words. You may have to eat them.

Once people grow up, they have no idea what's cool.

You grow up the day you have your first real laugh - at yourself.

Too many people grow up, that's the real problem with the world. They forget. They don't remember what it feels like to be 12 years old. - Walt Disney

We've had bad luck with all our children. They all grew up.

I've heard that it is possible to grow up. I've just never met anyone who's actually done it.

As we grow better, we meet better people.

Adults are just obsolete children. - Dr Seuss

Age is just a number, totally irrelevant unless, of course, you happen to be a bottle of wine. - Joan Collins

Once you grow up, you stop growing at both ends and start growing in the middle - it's not worth it.

The greener grass on the other side is probably artificial turf.

An accountant is someone who solves a problem you didn't know you had in a way you don't understand.

For more funny sayings go: Here!

For funny quips and quotes go: Here!

For more funny short jokes go: Here!

For funny one-liners go: Here!
SOCIAL FUN

FUN PRODUCTS

Our recommendation lists makes it easier to find the perfect products to have some retail therapy and fun. There are more than 30 categories. Click on any image below to view.

RANDOM FUN
More than 25 000 fun ideas posted over the years, including but not limited to: free printable goodies, party ideas for old and young, fun games, amazing arts and crafts, funny stuff, free templates and so much more - LOOK HERE! + follow us!

Want to know what we create next? Sign up for our monthly newsletter!