FUN TEEN PARTY TIPS AND IDEAS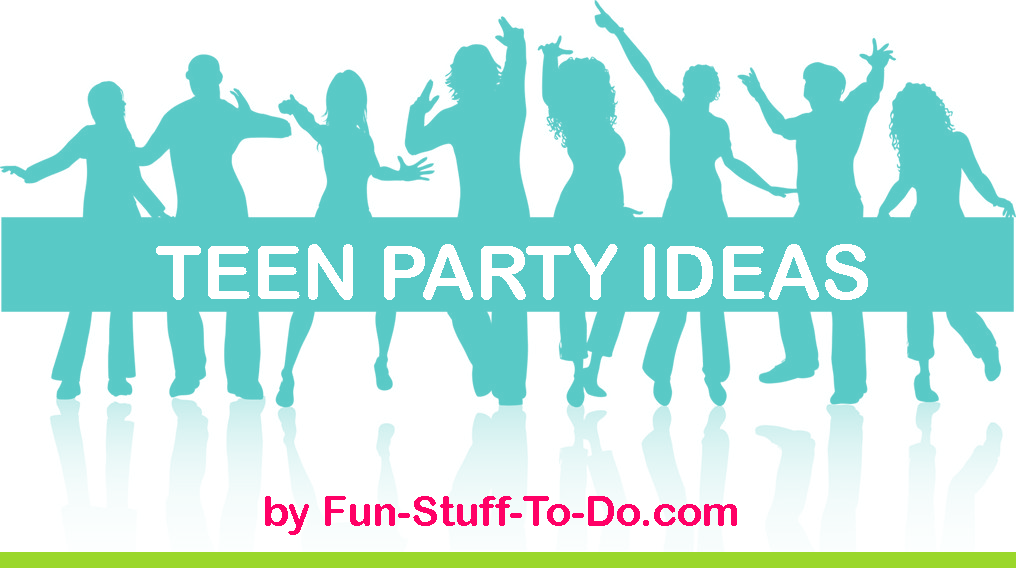 Why do adults find it so difficult to host a teen party? It's quite simple; they either add too many kid props or too much adult detail! So what's a mature mind to do?
Do check out all the cool themes further down, and...

Ask yourself what teens are really good at, that's what!
Teens are good at marching to the beat of their own drum and following their own leads, and don't forget they are all great eaters.

You provide: a safe place, tables with pizza's, hamburgers, fries with a variety of toppings, some salad for those who won't pig out initially or if you want to keep it simple a good variety of finger foods and a good selection of drinks, a few fun activities and MUSIC … and teens are likely to have the time of their lives – simple, isn't it?
The truth is teenagers are not that complicated, we complicate them. The worst that can happen at a teen party is: run out of food or drinks. You can easily leave the decorations and the rest of the fun and games (on a budget!) up to them, teens are very creative and knowing that you are available to help them if need be, usually provides them with endless inspiration and confidence to set up their own party!
Fun Teen Party Tips and Ideas

• Have plenty of drinks and snacks – high energy calls for plenty of nourishment.
• A great selection of teen music is essential and another great choice is music dvd's on a big flat screen! Add a microphone or two for sing-a-longs, if your equipment can handle it. We all dream of being a ROCK STAR at some point.
• Be present as a parent but rarely visible, be available when needed and do check in at times, teens want to feel independent, yet supported when they entertain their friends. A guard post on the roof with a TV, a well lit party area and a paint ball gun might do the trick (just teening!).
• Provide subtle advice and guidance, the best teen party games are those that develop spontaneously as a result of teens having a good time together.
• Providing access to fun party game equipment for group activities (all set up!) and allowing teens to choose what is IN and what is LAME this week, is often a better bet than having rigid game plans.
• Variety is the spice of life and this is no less true in the teenage world, provide fun activities other than dancing, bored teens are bound to get up to mischief to entertain themselves.
• Our teenage party games are free and for sure the best on the web with all the fun games our visitors submit!

• Fun equipment for group activities can include all the great ideas in the right column of this page as well as dart boards or electronic darts which are safer for the hooligans in the crowd, pool tables, table tennis tables, board games, karaoke machines and karaoke music, Nintendo Wii or Xbox 360 games, Nerf Guns and Trivia Games
• If game consoles are your teen's favorite thing – a small group that party together are often keen to bring their own game consoles along, providing you have the TV to plug it into and that their equipment will be safe.
• It's a fact, teens do like to blast their music and let them, warn the neighbors in time.
• A nice touch to ensure fun games and to keep everyone away from evil: A gift card or two as encouragement and reward for the most active and engaging fun game initiators are always a nice incentive at parties.
• Make a memory box, where guest can deposit little notes about the fun games they are playing and the great time they are having as the party proceed.
• Have a few disposable cameras handy on a side table which guests can randomly grab to take photos of all the fun and action. These photos can be distributed among all the guests a few days after the party or you can have a photo evening a few days later where friends can view all the photos.
• Another cool teen idea is to take digital photos as party games and activities proceed, print them while you as a parent are supposed to be "out of the way" and hand out as keepsakes when the party ends.
• It is fair to request from your teen not to invite trouble makers and to send trouble makers and gate crashers home.
• Set up a fun photo booth with super fun props.
Fun Gift Card Ideas For Teenage Prizes

• All the music you want. We're talking millions and millions of songs: Rock, Pop, Hip Hop, Rap, Alternative, Punk, Classical, Country... the list goes on. All the music you could ever want available any time, any where. Enough to drive any teen wild! Check out the 14 day free trial at the top link or give the gift of music with a gift card and personal message now. You can print your e-card immediately!
• Print An Amazon.com Gift Card at Home. Get one of their awesome designs or upload your own photo to create a personal gift card. Everyone loves shopping there, it is just so convenient and fun!
Where I Shop When I Plan A Teen Party

I love bargains and really cool stuff this is where I head to when I look for unique party goodies at affordable prices for teenage birthdays:
Paper Lantern Store
Besides for the obvious "paper lanterns", this shop has just about every type of lighting you can think of to set just the right mood for any party. I especially love the Moroccan Candle Lanterns for just $10 and up depending on the size, they cast the most amazing shadows on walls! They also have tons of other decorations!
My next stop...
Big Dot Of Happiness
I just love their invitations!! If I struggle to find that perfect theme for a special teen, this is the place where you are guaranteed to get satisfaction! There are funny themes, sports themes, girly themes, chic themes and so many more. Just head over to the Birthday section and from there to the Teen Party section.
My next stop...

BeauCoup
and
Swoozie's
Be spoiled for choice and price, these are my "Where did you get this!!" stores for all things "party" and especially favors!! Head to the Birthday section at Beau Coup and the Entertaining section at Swoozi's for all those memorable bits.
Fun Teen Party Themes

Click on image to view full details or here to see tons of other ideas.

1920's or Jazz Party

Pink & Silver Happy Birthday

Donut Party

Camping or Adventure Party

Luau Hawaiian or Island Style Party

1980's Punk Party

Bling Party

Nautical Party

Lumberjack Party

Sailor Party

Howdy Cowboy Party

1970's Disco Party

Sweet 16 Party

Spa Party

Black Masquerade Party

Goofball! Party

50's Diner & Jukebox Party

60's Hippie Party

SHARE YOUR AMAZING TEEN PARTY THEMES & IDEAS HERE!
What's your theme? What kind of entertainment do you have lined up? Are you giving prizes/favors - what are they? Where are you hosting your party? What are your fav colors? Who is in charge of the arrangements? What is your budget? Tell us all or tell us more we want to know how teens celebrate across the world!
Teen Party Games | Party Drink Ideas | Fun Games | Water Charades | Trampoline Games | Campfire Games | Home from Fun Teen Party Tips

SOCIAL FUN

FUN PRODUCTS

Our recommendation lists makes it easier to find the perfect products to have some retail therapy and fun. There are more than 30 categories. Click on any image below to view.

RANDOM FUN
More than 25 000 fun ideas posted over the years, including but not limited to: free printable goodies, party ideas for old and young, fun games, amazing arts and crafts, funny stuff, free templates and so much more - LOOK HERE! + follow us!

Want to know what we create next? Sign up for our monthly newsletter!