Fun Sponsor

Sponsors for this special offer are personally invited by us, this offer is not open to other advertisers and is only valid for 48 hours.
Each hand-picked fun sponsor invited, has unique merchandise that inspires our creativity.
Sponsorship enables us to be more efficient, more conscious about the needs and wants of the fun people in the world around us. Gives us more time to create free fun activities, games, ideas and goodies that sparks interest and engage visitors, this benefits the sales of your products.
Our free activities, printable fun pages and unique content establish awareness of your brand in a non-intrusive way; the page content compliments your products. Fun pages created by us with strategically placed advertisements ensures that sponsors are the go-to people with real fun merchandise on offer.
How It Works

We know it is time-consuming, but please read through the entire page.
When you become our sponsor, the following happens:
You provide us with the banner sizes below; we place these  throughout our top content pages and new pages. We skillfully fill pages with content, activities and free downloads that compliment our sponsors' products and services. View an example here and here.
We make it super simple for you to create a business page that highlights your trade on Fun-Stuff-To-Do.com, view this example.

Your business page allows you to add guest posts, write about new products, create special offers, seasonal offerings, run contests and more. We share this with our followers, example.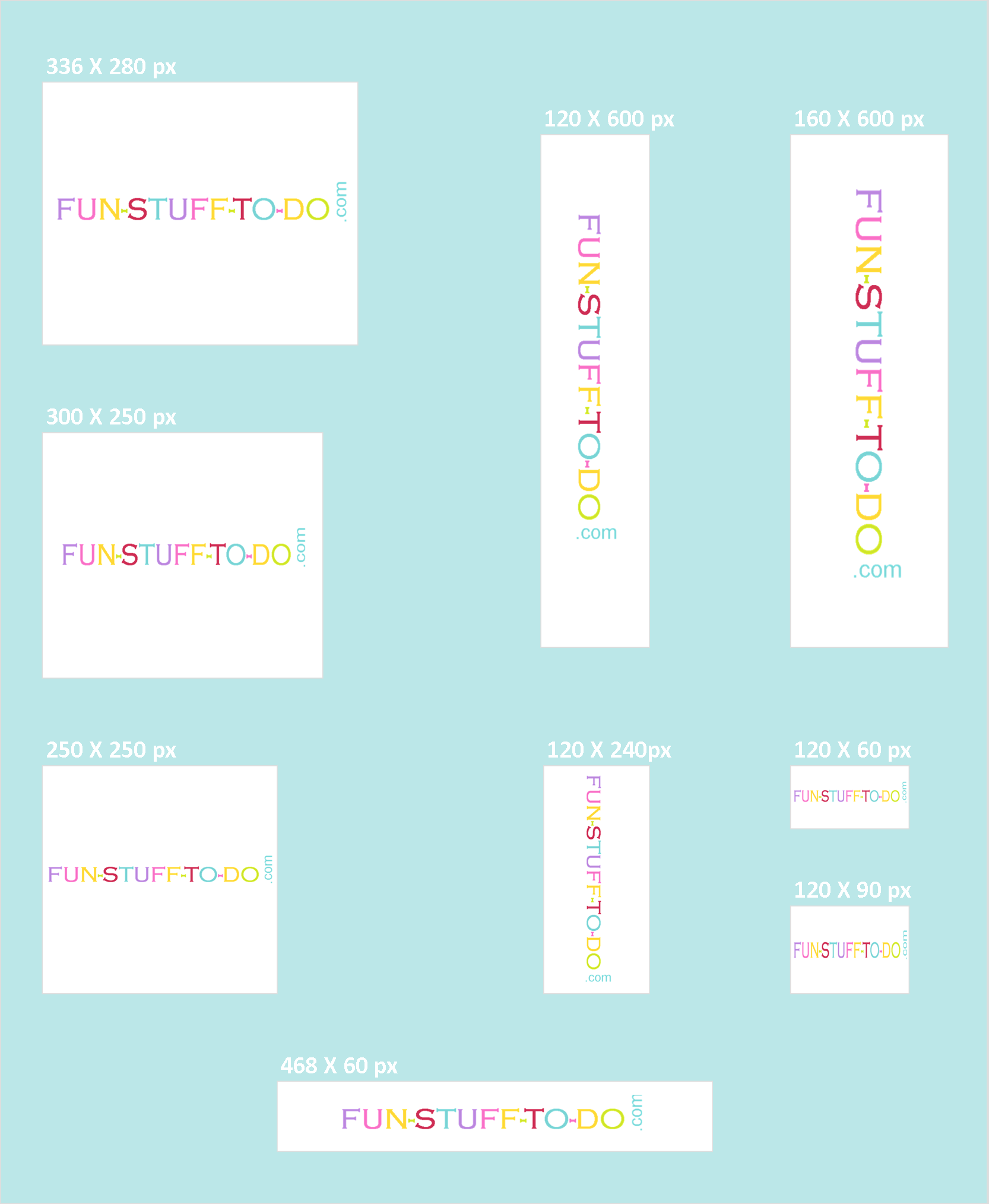 Are You Ready

Follow the lead of some of our top sponsors like Amazon, Coca-Cola, Melissa&Dough, Birthday Express, Coolglow, Wayfair and others.
Target a fun seeking female audience predominantly from the USA, who loves to shop online from home.
Place your FUN STUFF TO DO in front of loyal followers.

Promote to children, teens, moms, dads and families who frequent our website.

Increase your reach, build your brand and very importantly, awareness of your brand.  
Diversify your reach on the internet through us.

Free fun content created to propel your sales.
Why Top Companies Sponsor Us

We treat sponsor's products like fine diamonds, and they see the results.
Top quality visitors return many times over.

12 000 - 18 000 visitors per day (seasonal) click through on products via our website.

An average person view 2-4 pages on our site before entering into a transaction.
Ad impressions of 600,000 - 1,000,000 is possible on our top pages.

The average time spent on our site is between 2-15 minutes.
We have an above average following via RSS feed and social media platforms.
We have a growing customer mailing list of over 7500 that  respond to the latest offers, including yours. 
All traffic to our website is organic, content driven.
Regular new fun posts and ideas keep our followers engaged.
Sponsor banners get prime position on our site (Way above Adsense:) in fact our sponsors are making it possible to totally discard these in future.
We help you to create ad banners that we know drive sales.

Our Alexa ranking is usually below 200 000
Our US ranking is usually below 80 000
Semrush (US) rating is usually below 25 000
We monitor page views and ad impressions to ensure maximum exposure, details are freely available to yearly sponsors.

Top 25 Countries visiting our website (in order):
1 United States (58%) 2 Great Britain (UK) 3 Canada 4 Australia 5 India 6 Germany 7 China 8 Philippines 9 Netherlands 10 France 11 Spain 12 Sweden 13 Switzerland 14 South Africa 15 New Zealand 16 Singapore 17 European Union 18 Malaysia 19 Ukraine 20 Ireland 21 United Arab Emirates 22 Mexico 23 Pakistan 24 Indonesia 25 Brazil
What Sponsors Receive

One banner placement on 6 or more of our top 50 pages, a  minimum of 40,000 - page views per month. (We have 1250+ indexed pages on Google.)

A 160x160px business logo banner on 3 of our most visited pages. Minimum of 120,000 - page views per month.

Your business intro page (written by you, subject to editing) visible on our website and blog and included in our RSS feed. Diversify your reach on the internet and receive good quality back links for your brand.

Exposure in our monthly newsletter.
C2 functionality (provided by us) on your business page for you to add unique new products, guest posts, giveaways and more, whenever you wish. Your latest offering appear at the top of your personal list. Unlimited good quality product back links. (We offer help when needed.)

Receive unlimited impressions through our on-page functionality at hugely reduced advertising costs. Build your product list as big as you wish on our site.  
Update your banners as often as you wish.
You pay far less than uninvited advertisers and sponsors. Why? We like your products, we can promote them effortlessly, your products fit well into new pages planned for 2015 and we want you to sell a lot.

We create content to compliment your products. View examples, here and here and here. (Exclusively for invited sponsors.)
We offer help to create banners that get attention.

Easy Secure Payment

For 48 hours only, we offer you a
$225 annual saving
on our normal sponsorship package.
---

Monthly: $30

(For One Year)


---

---

Yearly:  $300

(2 Months Free)

---
You will be taken to a special page to upload your banners and business page after payment. Kindly bookmark this page if you would like to return to it.
We Ask Of You

Create unique and professional banner sizes in shades that compliment or match our website.
Submit unique business descriptions and product offerings,  duplicated content from other websites will not be approved.
Submit a 160x160px business logo. 
If you need help with banners that will get the "click" on Fun-Stuff-To-Do, please contact us. Six years of dealing with fun people, taught us well.

Easy To Quit

It is as easy to get out of our sponsorship campaign as it is to get in.
We want you to be happy, in fact delighted!  If you do not get the responses you were hoping for, just contact us, we'll either opt you right out or recommend pages with more benefits, it is always your choice.
We reserve the right to place/move advertising campaigns to compliment our content and to increase your visibility on our website.
Always Available

You have my personal email address, which brought you to this offer, you are most welcome to contact me at any time. 
If you were not invited this year, please submit your website for review, we'll have a look; and perhaps invite you next year.

Hope to welcome you soon.

SOCIAL FUN

FUN PRODUCTS

Our recommendation lists makes it easier to find the perfect products to have some retail therapy and fun. There are more than 30 categories. Click on any image below to view.

RANDOM FUN
More than 25 000 fun ideas posted over the years, including but not limited to: free printable goodies, party ideas for old and young, fun games, amazing arts and crafts, funny stuff, free templates and so much more - LOOK HERE! + follow us!

Want to know what we create next? Sign up for our monthly newsletter!