PERFECT PRANKS:
Perfect Painless Funny Pranks
For Kids To Play On People
We all feel like getting up to a little mischief sometime or another, this is especially true for kids and that is when perfect pranks are needed. Kids usually have good intentions at heart and their creative mischievous imaginations stems from nothing more than to have a little fun. We've asked a few kids what their favorite pranks are - most were very aware of the fact that playing pranks should not be harmful nor place anyone in danger. This list of funny pranks are suitable for kids but will provide no less entertainment and fun for adults in search of a few easy pranks to pull on family and friends.
Here are 8 perfect pranks for kids to play on people, painlessly. Further down you will find many, many more pranks that were submitted by our visitors.

CRAZY MILK PRANK
If your milk comes in a non-see-through container add a few drops of food coloring. It's harmless and colorful but WOW the surprise to those who make coffee or tea first thing in the morning! - Tatiana (11)
TOILET TRICK
Wrap clear plastic wrap over the toilet bowl at night (between the bowl and the seat). When someone use the toilet - OOPS! - Duncan (10) said: "I had to clean up the mess and got grounded, so it will depend on how strict your parents are!"
SWOLLEN FEET PRANK
Place some soft rolled up facial tissue paper inside the toe area of shoes. Tuck it in nice and securely so that it takes on the shape of the shoe. The person will think their shoes became to small over night. A quick and easy prank. - Jarrod (12) said: "We did this to my grandpa and he could not understand how his feet can still grow at his age because he took his feet out to see if they were swollen!"
COLORED WATER PRANK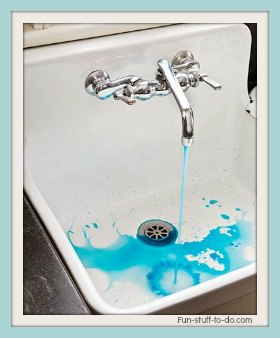 Loosen the faucet on a kitchen tap and take it off, now you can either squirt a good amount of food coloring into the arm of the tap with a syringe or you can put some dry cool aid drink mix into the faucet before replacing it, this will produce a vibrant color but it can become a bit of a sticky mess. - Mckenzie (13)said: "I used orange cool aid and my mom thought the pipes were rusted so she called a plumber, I did however stop her before the plumber came out!"
MOBILE CELLPHONE PERFECT PRANKS
Mobile Fun 1

Get hold of someone's cellphone, now swap the two names of the two people this person contacts the most around - you must be there for the confusion! - Inke (14) said: "We swapped my dad and my grans numbers around on my mom's phone - it was hilarious, first my mom phoned my gran 3 times trying to get hold of my dad apologizing each time for her mistake and being totally confused, then my dad phoned my mom and she answered "hello mom, didn't I speak to you enough times today! We were crying with laughter around the corner but you should have been there to see her completely confused face!"
Mobile Fun 2

Inke (14) continues: The next day we got hold of my mom's cellphone and replaced her normal voice message with: WUZ UP?? (Slang for What's Up). We then placed her phone on silent mode so that she won't hear it ring and after a few calls changed it back to the normal ringtone. By this time my dad and my gran thought that there was something seriously wrong with my mom, while we were still killing ourselves with laughter!
WE ARE LATE PRANK
Wake a younger sibling up for school on a Saturday morning! Let everyone in the house play along, once they arrive dressed for school and ready for breakfast everyone else must be in their PJ's saying oh but it is Saturday morning! - Jinzy (10)
THE MINI BREAKFAST PRANK
This prank is ideal for big brothers or dads who expect big breakfasts! Cut a tiny piece of bread in a square, now bake a small Quail egg and place it on the bread. Serve them the mini breakfast while everyone else have the normal size and make as if no one notice! - Zandri (15) said: "We did this to my big brother and he burst out laughing so loud, he had us all in tears laughing (I can't say what he said)!"


THERE ARE TONS OF PERFECT EASY PRANKS SUBMITTED BY OUR READERS DOWN BELOW... FIRST A FEW CRAZY PRANK GOODIES, HAVE A LOOK AND ENJOY!


---


Perfect Pranks for Playful Pranksters

The book "Pranklopedia" is an absolute MUST HAVE, the funniest, grossest, craziest, not-mean pranks on earth, even if you just get it to have a laugh every now and then! For Ages 7-12. Also available on Kindle.



If you are seriously into pranks and in need of an absolute perfect prank then you would not want to miss hopping over to:
THE BEST PRANKS AND GAGS ONLINE!
Here you will find among hundreds of pranks, the best perfect pranks goodies:

Funny Awesome Foursome Golf Ball Prank Set
Lifelike Remote Control Tarantula
Two Front Teeth Pacifier And Other Hilarious Billy Bob Teething Pranks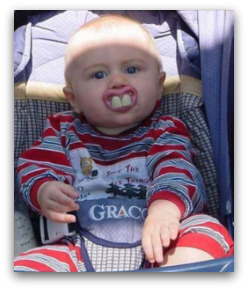 There are plenty of pranks below, see how other kids prank their friends and family!!!

---
DID YOU PLAY A PERFECT PRANK ON SOMEONE?
If you are reading Perfect Pranks and Good Pranks then chances are you have! Share your pranks with us! Write at least 300 words to create your own prank page on FUN STUFF TO DO, otherwise use the contact form in the left column.
Pranks Our Visitors Pull On People!!
Click below to see more pranks from other visitors...

---